PRE-GAME EVENT SPACE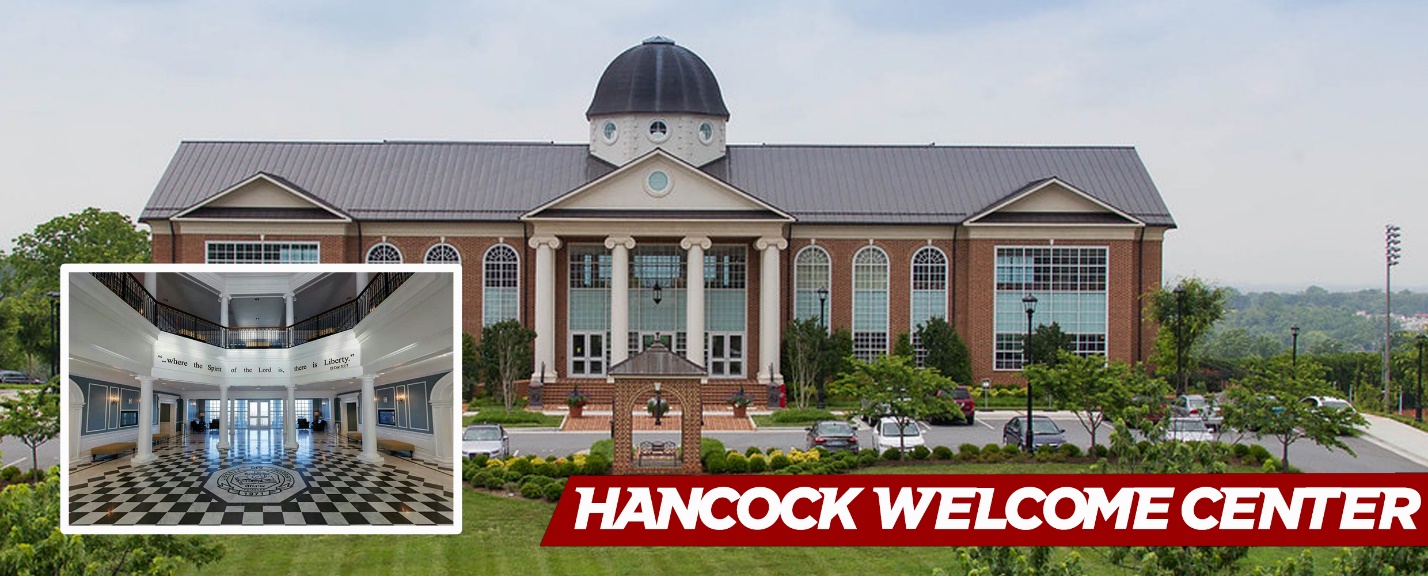 Located next to Williams Football Stadium, the three-level, 33,000-square-foot Jeffersonian-style building gives prospective students and their families a comfortable place to meet with Admissions and Financial Aid representatives and learn about other campus services. It features an impressive atrium, a large boardroom, a theater, lounges, a banquet hall, several smaller counseling rooms, and a back patio offering a beautiful view of the Blue Ridge Mountains. It is equipped with the latest technology, with touchscreen monitors and interactive photo centers to enhance the visitor experience.
Address: Hancock Welcome Center 1971 University Blvd, Lynchburg, VA 24515

Google Maps: Hancock Welcome Center
Apple Maps: Hancock Welcome Center

Optional Meal – $10.00 Cash ONLY
Gameday Meal Menu:
Pulled Pork (non-sauced)
Smoked chopped chicken
Baked beans with brisket
Potato salad
Cole slaw
BBQ sauces
Cornbread
Water/Tea/Lemonade

Website: https://www.smallbatchlyh.com

Liberty Football silicone and cloth wristband included in price of meal.
GAMEDAY PARKING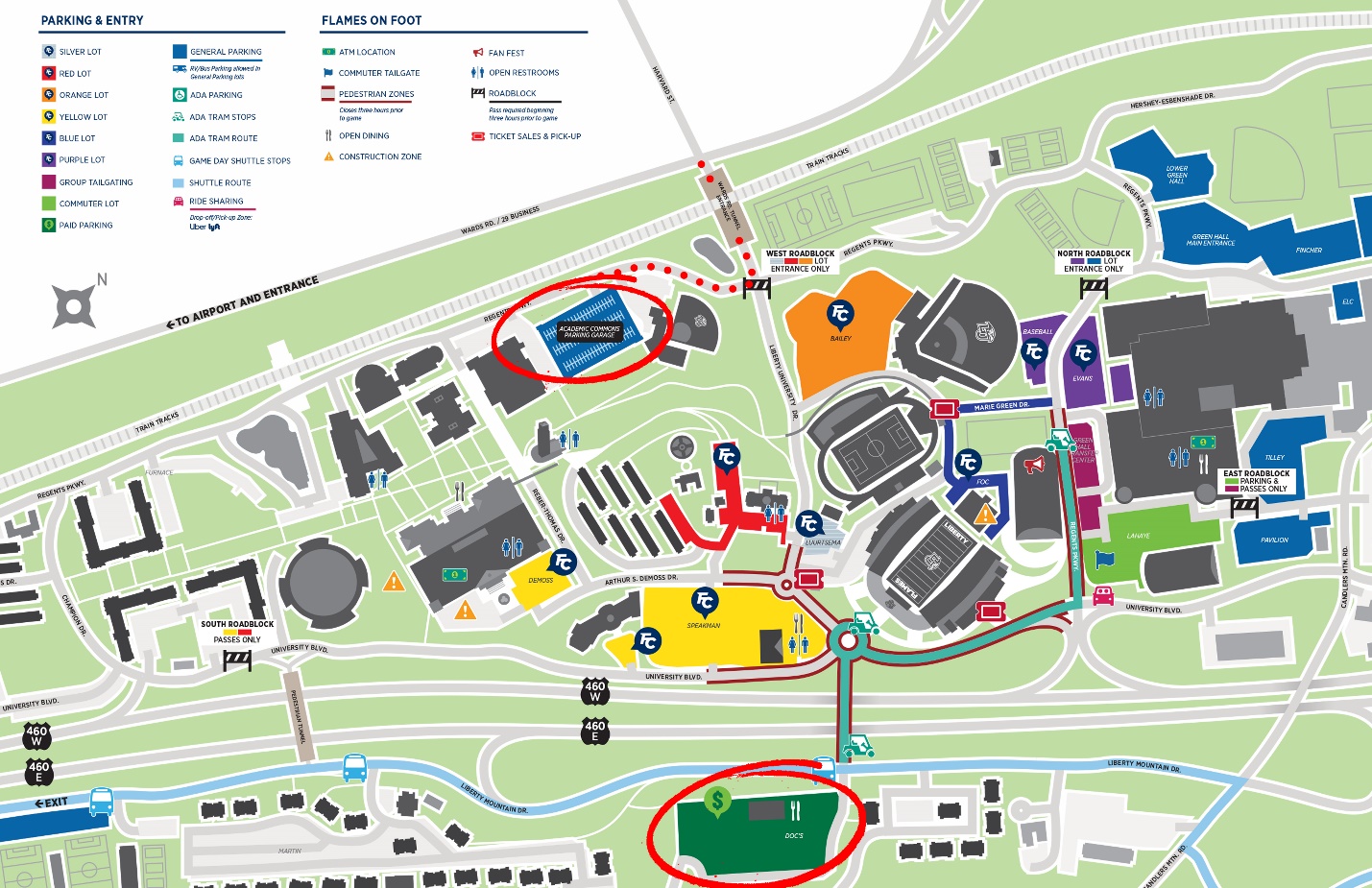 Academic Commons Parking Garage: https://goo.gl/maps/goGk4pbTog9nJ7rU6

The NCAA states that an institution may not arrange special parking for prospective student-athletes to use while attending a member institution's campus athletics event during an unofficial visit. General parking is FREE at the Academic Commons Parking Garage (Demoss Dr, Lynchburg, VA 24502) and is located on the backside of camps - only accessible off of Wards Rd. Parking is limited and other lots may require a fee to park. Spaces will be first-come, first-served. Please take note and follow the information on the electronic signage located around campus. Gameday parking typically includes at least a 10 minute walk to the stadium & Hancock Welcome Center. To access Liberty gameday & parking information, click here.
All fans are encouraged to:
1. Arrive early
2. Know the route to your parking area, including road closures
3. Follow all guidance of those directing traffic
4. Be courteous to other drivers and pedestrians
General Parking Lots (NO COST in BLUE LOTS):
General parking is available in the areas around Thomas Road Baptist Church, the lots along Candlers Mountain Road, the Academic Commons Parking Garage, East Campus lots and along Liberty Mountain Drive.
Game Day Road Closures:
The roads immediately around Williams Stadium close three (3) hours prior to kickoff. Only Flames Club members with passes specific to the lots within the pedestrian zone will be allowed beyond the road barricades.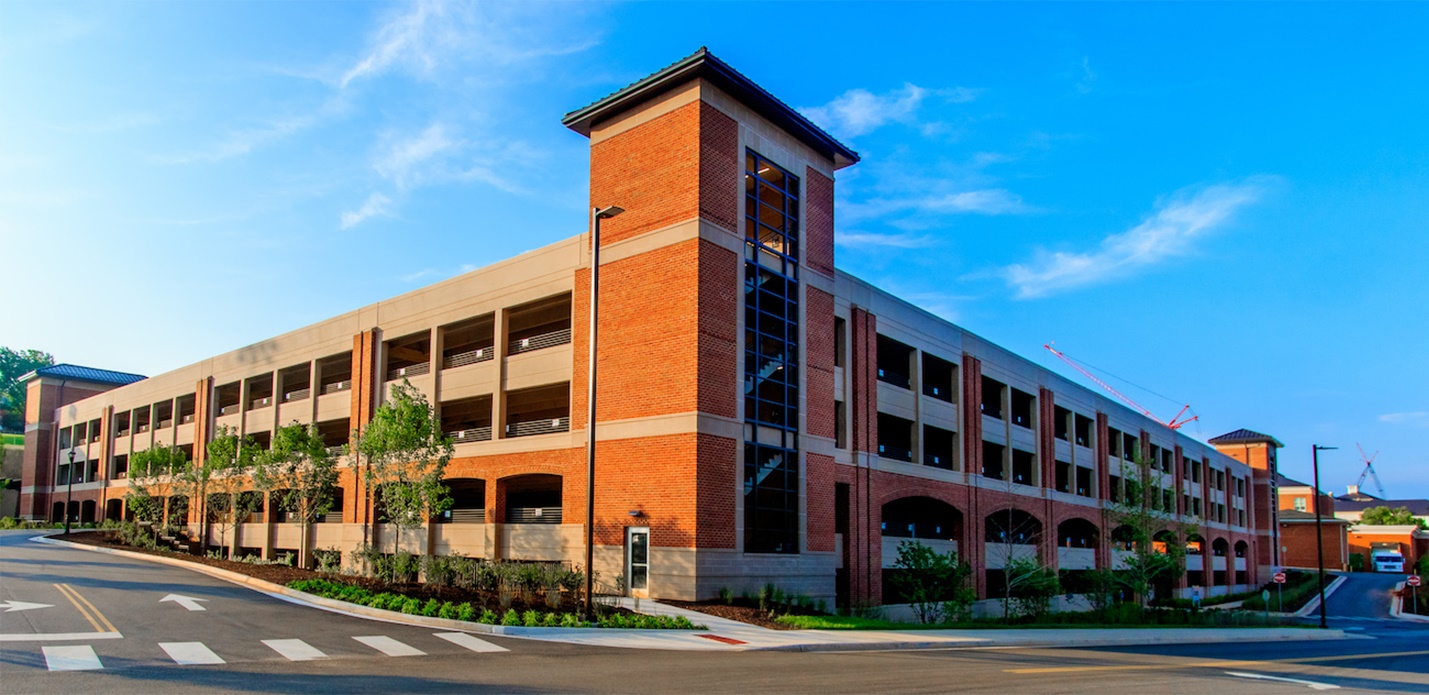 WILLIAMS STADIUM FAN GUIDE (A-Z)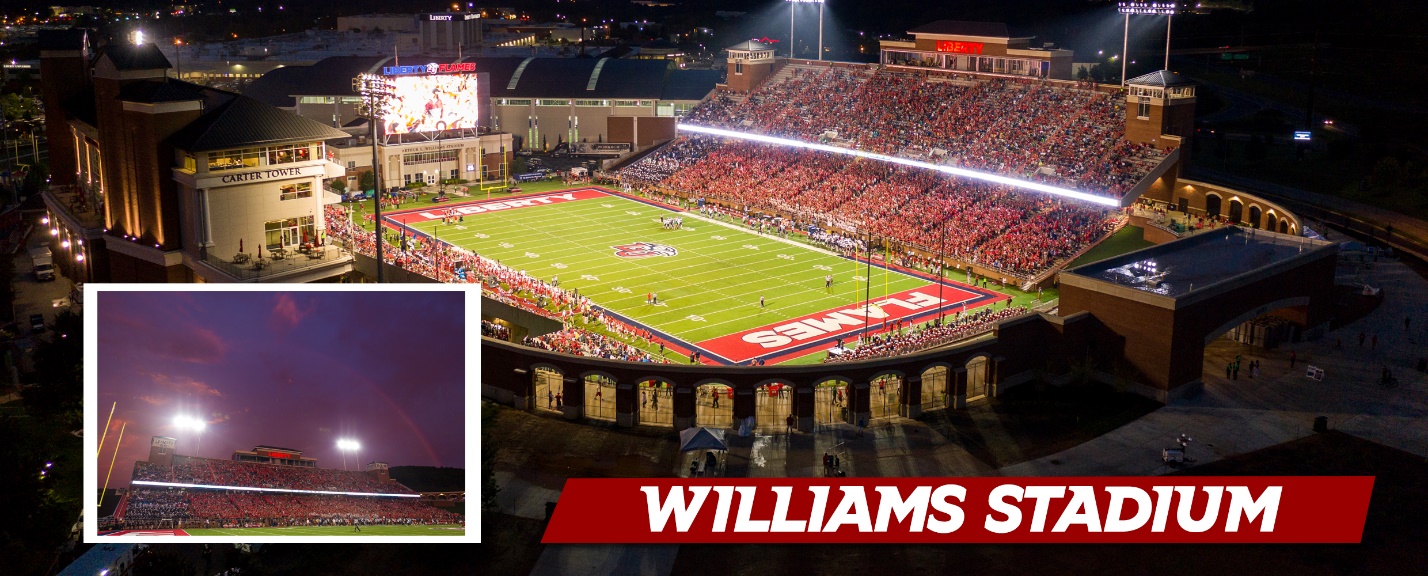 Admission:
All guests entering Williams Stadium must have a valid ticket in order to gain admission to a Liberty Flames football game. Children ages two (2) and under are not required to have a ticket to gain admission: however they must sit on the lap of an adult. Liberty University students must present a valid Flames Pass in order to gain admission into Williams Stadium through any student gate.
ATM Machines:
The closest ATM machines to Williams Stadium are located in DeMoss Hall as well as in the main hallway of Green Hall.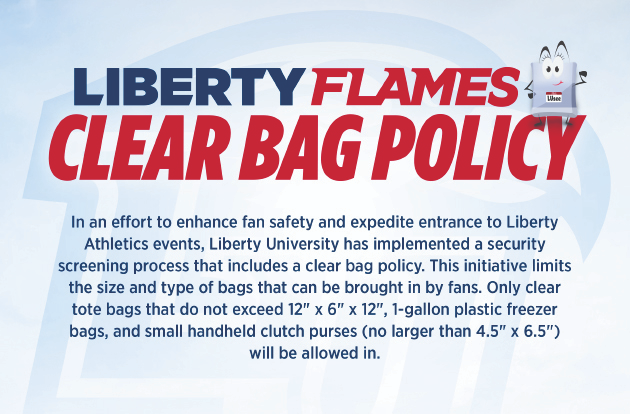 Bag Check Policy:
Safety is of the highest priority at Williams Stadium, and Liberty University will take every reasonable step to aid the safety of every person on campus.  All guests will be subject to a bag check before entering Williams Stadium (see Clear Bag Policy). Liberty Athletics encourages guests to arrive at least 60 minutes prior to kick off to avoid lines and to enjoy the pregame in-stadium activities. Williams Stadium gates open two hours prior to the start of every home game.

The following items are prohibited at Williams Stadium, but are not limited to:
• Outside Food or Beverages
• Coolers – unless containing medical supplies
• Umbrellas
• Pets – excluding service animals
• Fireworks or Explosives

Note: Such items will be prohibited from being brought into Williams Stadium. There is no storage area for these items.
Banners, Signs, and Flags:
Banners, signs and flags are allowed in Williams Stadium as long as they do not impede another spectator's view of the game and are not covering any venue signage. All banners, signs, and flags must adhere to the Liberty Athletics Fan Code of Conduct. Liberty University Athletic Game Management reserves the right to remove any banner, sign, or flag that is in violation with this code.
Clear Bag Policy:
In an effort to enhance fan safety and expedite entrance to Williams Stadium, Liberty has implementing a security screening process. This process includes a clear bag policy that will limit the size and types of bags that can be brought into the stadium by fans. The implementation of this measure is intended to enhance public safety while minimizing time spent searching bags at gate security checkpoints, thus easing access into the stadium. Only clear tote bags that do not exceed 12" x 6" x 12", or, one-gallon plastic freezer bags, will be allowed in Williams Stadium. In addition, small handheld clutch purses no larger than 4.5" x 6.5" will be permitted. Spectators also will be able to carry other items allowed into the stadium such as binoculars, cameras, and smart phones.

Click here for more information about the Clear Bag policy, including a list of acceptable and prohibited bags.

Code of Conduct:
Liberty is committed to creating a safe, comfortable and enjoyable fan experience. When attending an event, you are required to refrain from following behaviors:
• Behavior that is unruly, disruptive, or illegal in nature.
• Intoxication or other signs of impairment that results in irresponsible behavior.
• Foul or abusive language or obscene gestures.
• Interference with the progress of the event (including throwing objects onto the playing surface).
• Failing to follow instructions of event personnel.
• Verbal or physical harassment of participant, officials, fans or event personnel.
Event attendees are responsible for their conduct. Event staff will promptly intervene to support an environment where fans can enjoy the event free from the above behavior. Event attendees that violate these provisions may be subject to ejection without refund and loss of ticket privileges for future events.
Concessions:
Concession stands are located on both sides of Williams Stadium. Credit cards are accepted at all concessions stands.
Directions:
Parking in the Academic Commons Parking Deck is suggested.,br> From 460, take the 29 North Business exit toward Lynchburg. Take a right onto Liberty University Drive and you will immediately go through a tunnel. At the stop light, take a right onto Regents Parkway. The parking deck will be located on your left at the Kamphuis Field at Liberty Softball Stadium. From there, you are a short walk from Williams Stadium. For more information, see Campus Map.
First Aid:
First Aid stations is located at Gate 1 at Williams Stadium. Liberty University Police and Game Management staff is stationed throughout Williams Stadium in case any fans need assistance.
Fan Fest:
Get pumped for every home game at Flames Fan Fest — a pregame tradition featuring food and fun at the Liberty University Indoor Practice Facility (behind the north end zone of Williams Stadium). This free event is open to all ticket holders and features music, the pregame radio show, cornhole, and other tailgate games. Have a blast with your family in the Kids Zone and take pictures with Sparky and the LU cheerleaders. Doors open two hours before kickoff, and the fun winds down 30 minutes before the game begins. After entering Williams Stadium with a game ticket, make your way over toward Section 109 and Gate 4, and follow the signs down to the Liberty Indoor Practice Facility. We hope you will join us in our pregame tradition!
Gates:

All gates open two (2) hours prior to kickoff.
• The Liberty prospect pass list is located at Gate 1
• HS Coaches pass list is located at the East Gate (in-between Gate 5 & 6)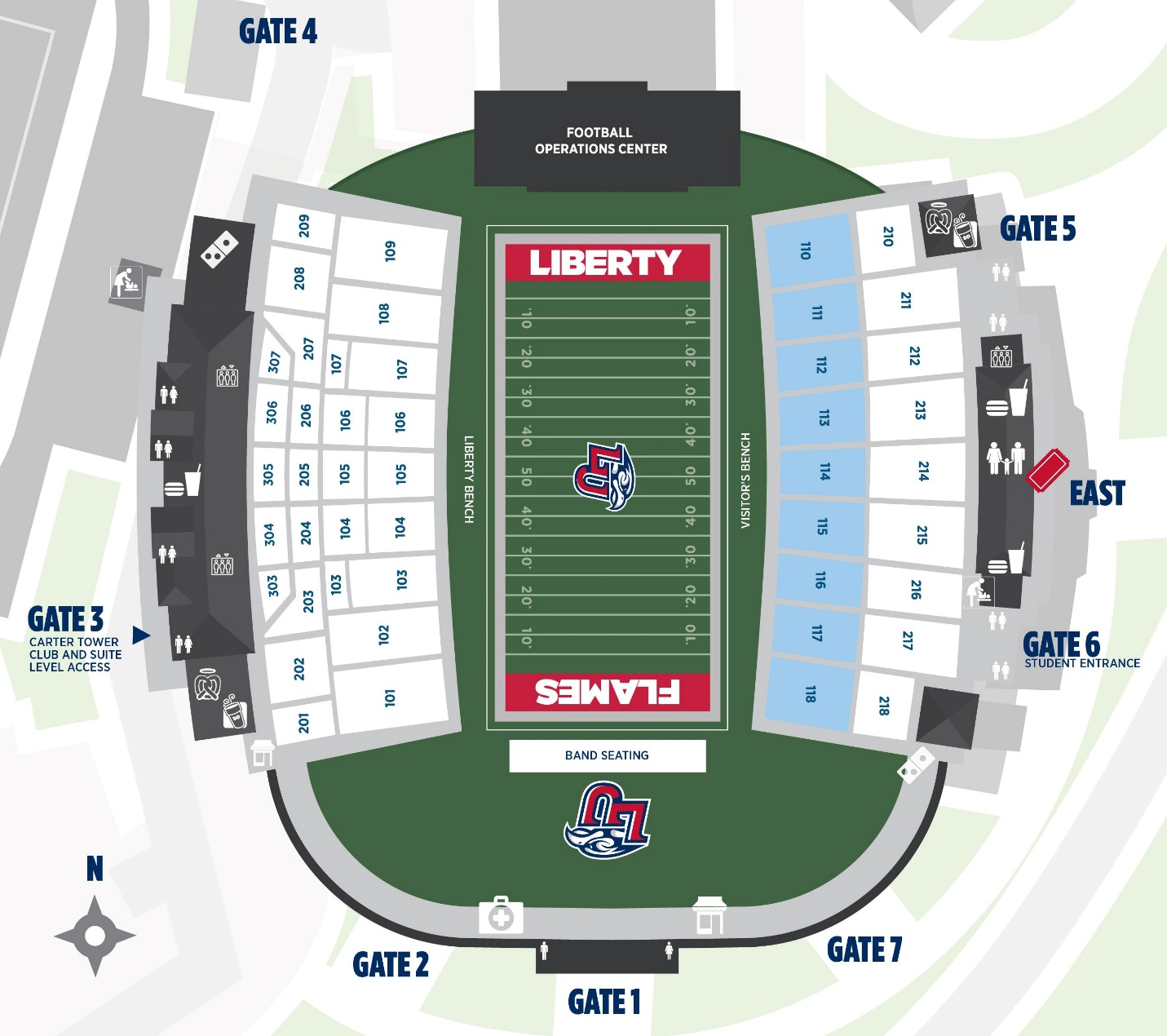 GPS Address:
1971 University Blvd, Lynchburg, VA 24515
Campus Map
Handicap/ADA Accessible Guest Services - ADA Accessible Guest Services:
ADA Accessible parking is available at the Liberty Mountain Indoor Track Complex. ADA trams and shuttles will start three (3) hours prior to kick off to shuttle guests to and from Williams Stadium. Handicap seating is located on the lower level of both the East and West side of Williams Stadium. The handicap seating between Sections 101-109 on the West Side are reserved seating so a physical assigned ticket is required for those seats. Handicap seating on the East Side between Sections 110-118 are considered general admission and are available on a first come, first served basis for all games.
Parking:
Liberty Athletics understands the football game day experience begins long before kickoff at Williams Stadium and the department is here to make each fan's entrance to campus as smooth as possible on Saturday this fall. To help Flames Nation with their game day parking questions, Liberty Athletics has provide the following, including information about a new paid parking lot at Doc's Diner. Game Day Parking Information
Prohibited Items:
Prohibited items at Williams Stadium are, but are not limited to:
• Coolers - unless containing medical supplies
• Fireworks or explosives
• Outside food or beverages
• Umbrellas
• Pets - excluding service animals
Radio Coverage - Liberty Flames Sports Network:
Liberty Flames football can be heard all season long on the Liberty Flames Sports Network from VWSE. Powered by our flagship station, The Journey 88.3 FM, the pregame show begins 90 minutes prior to kickoff. Game day coverage of Liberty football can also be heard on the Journey mobile app.
Re-Entry:
Re-entry is allowed at Williams Stadium if your ticket is properly scanned out upon exit. Customers that do not have their ticket or student Flames Pass scanned out upon exit will not be allowed re-entry. Exit and re-entry are allowed through clearly marked areas at Gates 1, 4, and 5 only, while students must exit and re-entry through Gate 6 only.
Security Checks:
Guests are subject to inspection and search for prohibited items. All guests entering any gate at Williams Stadium on game day will be required to pass through a magnetometer. Magnetometer FAQ page
Tailgating Policy:
• Only one car per space is permitted. Aisles may be utilized for tailgate parties in designated areas.
• Parking or driving on green reserved spaces or sidewalks is prohibited.
• Tents or canopies must not obstruct sidewalks, driving lanes, or walkways. Tents should be secured by sandbags, water buckets or stakes no more than one foot long.
• Tailgating equipment, including furniture, grills, games, generators, or satellite dishes, may not obstruct sidewalks, drive lanes, or walkways.
• Open flames (other than grills) are prohibited.
• All trash must be placed in appropriate trash receptacles or packed and removed.
• Disposal of grease, hot coals, or hazardous materials into the ground or storm drains is prohibited.
• Hot coals must be placed in metal containers and removed from campus. The container may also be left on a concrete area for disposal by the Liberty Grounds team.
• All generators must be equipped with a noise-reducing device (manufacturer-approved cover or muffler). Special care and consideration should be taken when managing fuel and extension cords affiliated with generators.
• Motorized recreational vehicles, including four-wheelers, golf carts, mules, gators, scooters, motorized skateboards, etc., are prohibited. • Pets are not permitted in the stadium or tailgating areas.
• Liberty prohibits alcohol on campus.
• No overnight occupancy is permitted in tailgating areas or on Liberty's campus.
• All tailgating lots must be vacated within three hours of the conclusion of the game.
Ticket Information:
We will provide tickets for you at our pre-game prospect event.
*Prospects - The NCAA allows us to furnish you with a maximum three (3) complimentary tickets.
*HS Coaches - The NCAA allows us to furnish you with a maximum of two (2) complimentary tickets.
Any extra tickets will have to be purchased at your expense for the general admission price, which we can handle during our pregame registration/check-in.
Water:
Guests are allowed to bring in one unopened 1 liter plastic bottle of water into Williams Stadium on game day.
Inclement Weather Announcements/Delays:
Liberty Athletics wants to ensure your game day experience at Williams Stadium is as safe and enjoyable, as possible, including when inclement weather hits the Lynchburg area.

Liberty Athletics reserves the right to delay the opening of the gates at Williams Stadium due to the threat of inclement weather within the vicinity of Williams Stadium. Prior to gates opening on game day, any weather delays will be announced by the @LibertyUPolice Twitter account, followed by all of other official channels (@LibertyFlames and @LibertyFootball social media accounts, LFSN Radio on The Journey 88.3 FM, local media outlets).

Once the gates have opened on game day, Liberty Athletics will use the following protocol to announce to announce any weather related delays.

Lightning Strike within 20 miles of Williams Stadium:
• Stadium PA announcement will be made notifying fans of lightning in the area. Fans are encouraged to seek shelter in approved locations (see list below)
Lightning Strike within eight miles of Williams Stadium:
• Stadium PA announcement will be made notifying fans lightning is within eight miles of the stadium and that play or the pregame preparation of play will be postponed for a minimum of 30 minutes
• Fans are directed to seek immediate shelter in approved locations (see list below)
• During the delay, each new lightning streak within eight miles of Williams Stadium will start a new 30-minute delay of play or the pregame preparation of play
• Gates will be closed to entry until the delay is over

List of Shelter Locations:
• Liberty Indoor Practice Facility
• Schilling Multipurpose Center
• Green Hall
• Hancock Welcome Center
• Personal Vehicles
• Liberty University Dorms (students only)

List of official communication outlets:
• @LibertyUPolice Twitter account
• @LIbertyFlames social media accounts
• @LibertyFootball social media accounts
• LFSN Radio on The Journey 88.3 FM
• In-stadium PA (once gates have opened on game day)
• Local Media Outlets

Will Call:
• Prior to game day, the will call window is located at the Williams Stadium East Ticket Booth, Monday - Friday, 9 a.m. to 5 p.m.
• On game day, will call tickets can be left at and picked up at the North, South, and East Ticket Booths.
• All Ticket Office windows open at 9 a.m. for 2 p.m. game times and 11 a.m. for 6 p.m. game times.
• For individuals dropping off tickets to another guest, please be sure to let guests know which ticket office the tickets were left at.
• A photo ID is required in order to pick up tickets.
• Please note that Visiting Team Player Pass List and Will Call is located at the East Ticket Booth.
• Liberty Recruit Pass List is located at Gate 1, for late arrivals.

Mother Baby Room:
West Side: A Mother Baby room is available at the Soccer Press Box located behind Carter Tower near section 108. East Side: A Mother Baby room is available on the concourse near section 116.