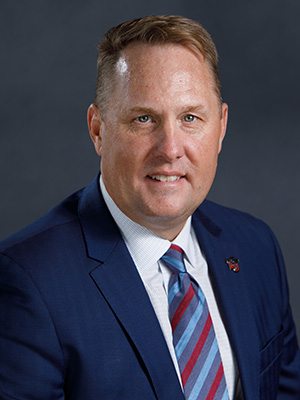 A winning tradition at the highest level of NCAA collegiate football was brought to Liberty Mountain when Hugh Freeze was introduced as the ninth head coach in football program history on Dec. 7, 2018.
Freeze brought over 25 years of continued coaching success to Liberty, including head coaching experience that has led to conference titles, nationally ranked recruiting classes and bowl appearances at multiple stops during his highly decorated career.
Prior to being named Liberty's ninth head football coach, Freeze's collegiate head coaching stops have included Lambuth University (2008-09), Arkansas State (2011) and Ole Miss (2012-16) where he posted a combined 42-32 mark in eight seasons.
The native of Oxford, Miss., returned to his hometown school and led it back to championship form during his five seasons as head coach at Ole Miss. Freeze guided Ole Miss to bowl games during three of his five years with the Rebels, including victories in the Music City bowl (2013 season) and the Sugar Bowl (2015 season).
Freeze's time in Oxford was highlighted by a 10-3 campaign in 2015, the program's first 10-win season since 2003. The Rebels won their first four games of the 2015 season, including a 43-37 road victory over No. 2 Alabama, Ole Miss' first win in Tuscaloosa, Ala., since 1988.
Alabama went on to claim the national title, finishing the season with a 14-1 overall record. The Crimson Tide's loss to Ole Miss marked the third time in program history that the Rebels were the national champion's only loss during their championship season.
The 2015 campaign also included a thrilling 38-27 win over No. 21 Mississippi State in its rivalry "Egg Bowl" game with the Bulldogs and a 48-20 win over No. 16 Oklahoma State in a New Year's Six bowl game in a Jan. 1 Sugar Bowl contest.
Ole Miss was ranked as high as No. 3 in the national polls in both 2014 and 2015 and finished top 10 in the country for the first time since 1969 after the Sugar Bowl win (No. 9 in the coaches poll and No. 10 in the Associated Press poll).
Ole Miss was a mainstay in the national polls during Freeze's tenure, including top 25 rankings for 45 weeks over his five-year coaching stay and a string of 27-straight weeks in the polls for the first time since 1957-62.
Eleven Ole Miss players were selected in the NFL Draft during Freeze's time as head coach, including first-rounder Engram as well as D.J. Jones, Derrick Jones and Chad Kelly hearing their names called in the latest draft. In 2016, the Rebels had three first-round draft picks in Tunsil, Treadwell and Nkemdiche. Moncrief, Donte Golson, Fahn Cooper and Cody Core were also drafted over the last four years.
Before returning to Oxford, the former Ole Miss assistant experienced a record-setting run at Arkansas State. With Freeze as head coach in 2011, the Red Wolves captured the Sun Belt Conference championship and became just the third school in Sun Belt history to finish undefeated in league play with a perfect 8-0 mark. The 10-2 overall record marked the program's first 10-win season since 1986, when ASU was a member of the I-AA Southland Conference.
ASU, ranked No. 42 in the nation in scoring offense, finished the season averaging 30 points a game and recorded at least 20 points in 11 consecutive games for the first time in school history. Freeze's offense scored 46 touchdowns for the fourth-most in school history and the most since the 1975 season.
Prior to his arrival at Arkansas State, Freeze compiled a 20-5 record over the 2008 and 2009 seasons at the helm of the Lambuth University football program in Jackson, Tenn.
Under Freeze's direction, Lambuth won the Mid-South Conference West Division, advanced to the second round of the NAIA playoffs for the first time since 1999, finished the year with a 12-1 mark and ascended to the No. 6 ranking in NAIA.
Prior to taking over as head coach at Lambuth, Freeze served on the Ole Miss staff from 2005-07, including the final two seasons as an assistant coach.
Before going to Ole Miss, Freeze served 13 years at Briarcrest Christian School (Memphis, Tenn.) as a classroom teacher, coach and administrator. He was the Saints' head football coach from 1995 to 2004, running the no-huddle "spread system" for six years that led to six straight state championship games.
Before assuming the role of head coach at Briarcrest, Freeze served as the teams' offensive coordinator and defensive backs coach from 1992-94, as the Saints reached the TSSAA state semifinals twice.
It was while attending USM that he became active in mission projects, serving as a missionary in Houston, Salt Lake City, St. Petersburg, Russia and Australia. Freeze also served as the state president for the Mississippi Baptist Student Union.